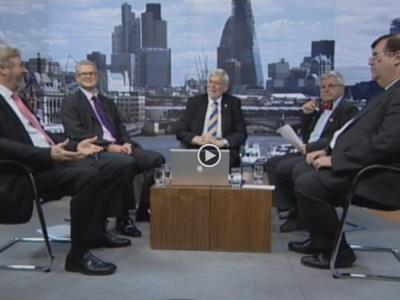 INTERNATIONAL: Making best use of capacity on key corridors requires all stakeholders to work together, and address the issue from a 'systems' perspective, according to Stefan Wendel, Programme Director for European rail freight Corridor 1 linking Rotterdam and Genova.
Speaking in the Railway Gazette TV interactive debate The Capacity Challenge on September 11, Wendel emphasised the complexity of co-ordinating cross-border operations, bringing together not just the infrastructure managers and their political stakeholders but a wide mix of railway undertakings and terminal operators.
He pointed to the need to co-ordinate timetabling and maintenance planning in each country to make best use of capacity on core routes, but added that giving greater priority for freight trains in the path allocation process did not mean constraining the network controllers managing real-time train operations, where it was necessary to react to changing conditions.
Chiltern Railways' Business Development Director Graham Cross explained how the UK passenger train operator had been investing in both rolling stock and infrastructure enhancements to carry growing volumes of traffic during its franchise, adding that it was important to plan ahead to meet future growth projections.
Improving punctuality and performance on the approaches to critical junctions and bottlenecks would avoid capacity being wasted, suggested Felix Schmid, Professor of Railway Systems Engineering at the University of Birmingham. To this end he welcomed the increasing use of technology such as the integration of driver advisory and traffic management systems to optimise real-time train operations, along with wider deployment of ERTMS.
Greater focus on asset condition monitoring, automated inspection and proactive maintenance regimes would help reduce the need for possessions and free up capacity, suggested Ted Stephens of Bentley Systems, adding that while railways are collecting more data, this needs to be used effectively to drive maintenance policies.
During the debate, which was chaired by Railway Gazette Group Editor-in-Chief Chris Jackson, the panellists also discussed the challenges of operating longer and heavier trains, and the benefits of targeted investment to free-up bottlenecks, including grade separation of busy junctions. In the longer term, construction of new lines would help to create separate passenger and freight networks, subject to the availability of funding.
The recorded version of The Capacity Challenge is now available to watch on demand, free of charge. Register or log in to watch the debate and read the comments and feedback from viewers in more than 35 countries.