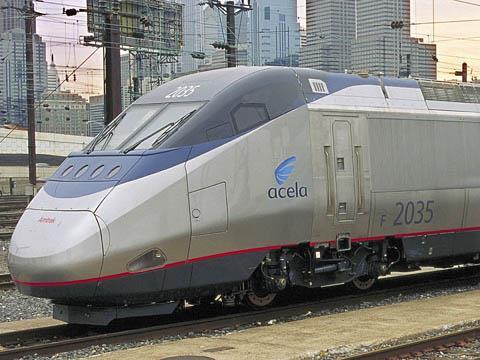 USA: Secretary of Transportation Ray LaHood has officially designated the Northeast Corridor between Boston, New York, Philadelphia and Washington DC as the country's 11th high speed rail corridor, making it eligible for federal funding under the Passenger Rail Improvement & Investment Act 2008.
LaHood recently invited applications from states interested in receiving some or all of the $2·4bn of federal funding previously allocated to the Orlando – Tampa high speed line, which was rejected by Florida's Governor Rick Scott.
Writing to New Jersey's Senator Frank Lautenberg on March 14, LaHood said the designation would 'provide new avenues for funding to improve railway infrastructure along the Northeast Corridor, which includes the most densely populated area of the United States.' It covers both the existing main line 'and any alternative routings for train service' between the four main cities, allowing the state governments along the route to apply for federal money to upgrade the present infrastructure or build new lines.
Last year Amtrak set out its vision for building by 2040 a 680 km 'world class' high speed line between Boston and Washington, suitable for 355 km/h operation. Even with planned upgrading projects, it expects the existing line to run out of capacity by 2030. Amtrak's Vice-President for High Speed Rail Al Engel told Railway Gazette International that the Northeast Corridor was one of the most obvious places in the USA where the population volumes and distances could justify construction of a new line.
Speaking at Washington DC's Union Station on March 15 Lautenberg announced the formation of a 'BiCameral High-Speed Intercity Passenger Rail Caucus', bringing together Congressional Representatives and Senators to support high speed rail development. Among the participants are Representatives from Massachussetts, New York, California, Florida, North Carolina, Minnesota and Illinois.