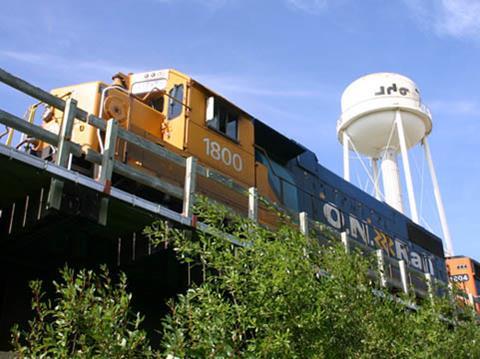 CANADA: The government of Ontario announced on March 23 that it is to 'wind down' the Ontario Northland Transportation Commission, an agency established in 1902 which operates a 1 100 km rail network in the north of the province.
A transition board has been appointed to divest ONTC's 'commercially valuable' assets including its rail freight operations, rolling stock refurbishment business and Ontera telecoms activities.
A spokesman told Railway Gazette International the government is 'optimistic that there are great opportunities for the private sector to sustain viable businesses from the various ONTC assets.'
The Northlander passenger service between Toronto and Cochrane is to be replaced by road transport. The government said demand for the six services operating each week has stagnated at 320 000 journeys a year, and the current subsidy of C$400 per passenger is 'no longer affordable'.
Ferry services will also be consolidated, but the Polar Bear Express train will be retained to serve communities between Cochrane and Moosonee which have no road access.
No dates have been announced for these changes.
'We've made significant investments in the ONTC since 2003, but the organisation is not on a sustainable financial path', said Rick Bartolucci, Minister of Northern Development & Mines. 'We have a responsibility to find a new solution that both protects essential passenger services and ensures that northerners are getting full value for taxpayer money. Our priority is to invest in areas that matter most to northerners, such as healthcare, education, northern highways and the Northern Ontario Heritage Fund.'