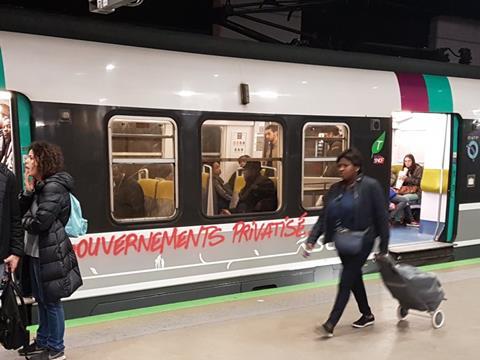 FRANCE: A revised version of the government's draft legislation to reform the national rail sector was formally adopted by the Sénat on June 5, by 240 votes to 85.
The legislation retains the core principles of the government's proposed reforms, which had been adopted by the Assemblée Nationale in April. These include opening up the passenger market to competition, transforming the SNCF group from a set of state enterprises into state-owned public companies and ending recruitment under the status of cheminot.
Transport Minister Elisabeth Borne said the text had been 'enriched on a number of points' to try to satisfy the concerns of the railway unions. However, the principal unions immediately responded that the rolling programme of strikes which has disrupted services for the past three months would continue, with a major 'day of action' scheduled for June 12.
In what the transport ministry described as a 'symbolic' change, the future share capital of SNCF Group, train operator SNCF Mobilités and infrastructure manager SNCF Réseau will be designated as 'non-transferable', in order to rule out any 'false debate' about the possible privatisation of the state railway in the longer term.
A 'unified railway perimeter' has been defined to protect the cheminot status of existing employees at the three entities. The government has offered to extend the generous terms and conditions to new employees who reach the appropriate level by the end of 2019, but they would no longer apply to anyone recruited after January 1 2020.
Addressing union concerns about the transfer of SNCF staff to other operators in conjunction with the competitive tendering of regional services, the government has accepted this should be on a voluntary basis as far as possible; there would also be a 'right of return' to an equivalent post within the national railway after between three and eight years.
In order to stabilise railway finances, the government has pledged to take back €35bn of SNCF Réseau's accumulated debt, which broadly relates to the past construction of high speed lines. The intention is that this would reduce future debt servicing costs to a more sustainable level, but industry insiders point out that as yet there is no timescale for this change.
The next step in the legislative process begins on June 11, when a joint committee of seven deputies and seven senators is due to review the texts adopted by the two houses and agree a unified final version. This is scheduled to be debated in the Assemblée Nationale on June 13 and the Sénat the following day, after which 'implementing decrees' would set out the timetable for the reforms.