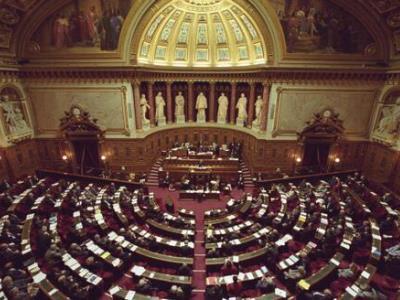 FRANCE: The government's draft legislation to restructure the rail sector passed its reading in the Sénat by 188 votes to 150 on July 10. The revised text had been adopted by 355 votes to 168 during a reading in the Assemblée Nationale on June 24.
Under an accelerated process, the legislation is due to have a single reading in each house, and to be signed off by the President eight days after the final vote.
The railway reform legislation is intended to create an 'integrated industrial public group', to 'restore the economic equilibrium' of the rail sector and put railway finances on a more sustainable footing, as well as 'preparing for the introduction of competition'.
Part I of the legislation amends the Transport Code to provide for the establishment of a public railway group, composed of three entities: SNCF as the 'mother' public body responsible for strategic control, and two 'daughter' institutions: infrastructure manager SNCF Réseau and train operator SNCF Mobilités. The unified infrastructure manager will be formed through the merger of RFF, maintenance business SNCF Infra and the traffic control directorate DCF, but the management of stations will remain with the train operator.
New provisions on debt control and railway finances will form the basis of performance contracts for both the operator and infrastructure manager, and the government is required to draw up a National Transport Master Plan every five years. Rail regulator ARAF gains additional powers and increased independence, including a requirement to scrutinise infrastructure spending and ensure that it is in line with the performance contract.
Part II of the bill includes various specific or transitional provisions. The three new entities will be legally established with effect from December 1 2014, ready for the revised Transport Code to enter into force from January 1 2015. Further articles provide continuity of employment for existing railway staff, including 'measures to create a common framework for all workers in the rail industry' and enshrine the rights of rail unions to negotiate collective agreements on terms and conditions of employment.