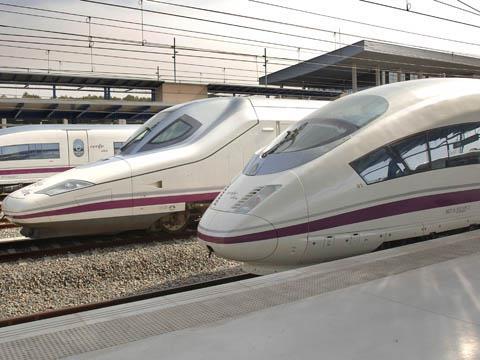 SPAIN: With total planned spending of €4·7bn, rail forms 47% of the Ministry of Development's proposed investment budget for 2013, unveiled by Development Minister Ana Pastor on October 1.
Of this total, €3·3bn or 71% is to be spent on high speed projects, with €332m allocated to the conventional network, €116m to rolling stock, €585m to 'administration and maintenance' and €82m to suburban networks.
Amongst the high speed projects, €1·07bn has been allocated to the route from Madrid to Ourense and Vigo. The Mediterranean Corridor is to receive €1·02bn, comprising €748·7m for high speed projects and €270m to dual-gauge existing routes in Catalunya and the Valencia region.
High speed routes from Madrid to the north of Spain have been allocated €676·5m, including €180m for the Pajares base tunnel which is now expected to be completed during 2014 and €190m for the 'Basque Y' connecting Vitoria, Bilbao and San Sebastián.
The route from Madrid to Extremadura and the Portuguese border has been allocated €176m in 2013, despite the Portuguese government's decision to cancel its high speed project between the border and Lisboa.
Elsewhere in Spain, €89·3m has been allocated to projects in Andalucía including €83·7m for Sevilla - Cádiz, while the 1 435 mm gauge tunnel between Atocha and Chamartín stations in Madrid is to receive €45m and the quadrupling of high speed tracks between Torrejón de Velasco and Atocha €44m.
Major projects on the conventional network include level crossing elimination which has been allocated €20·7m, electrification between Medina del Campo and Fuentes de Oñoro (€20m) and track renewals between Almoraima and Algeciras.
Freight projects include new rail access to the Port of Barcelona which is to receive €60m.