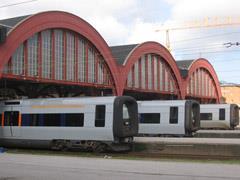 SWEDEN: Veolia Transport is to take over local services in southern Sweden which are currently operated by DSBFirst Sverige, Gunnar Wulff, Chief Executive of regional transport authority Öresundståg announced on June 28.
This follows an agreement between DSB and Öresundståg which aims to ensure continued operations and also to stabilise the DSBFirst joint venture, which has been embroiled in financial problems since allegations of cross-subsidy with DSB arose earlier this year (RG 5.11 p30).
Veolia will gradually take on responsibility for Öresundståg services over the next six months, with the aim of being in full charge by the December timetable change. Veolia's contract runs to the end of 2013, to give Öresundståg time to tender for long-term operator. Staff at DSBFirst Sverige will transfer to Veolia, or return to DSB or DSBFirst Danmark.
As well as the Öresundståg contract, DSBFirst has two others sets of contracts for local services in southern Sweden and Denmark. FirstGroup has now exercised its put option for DSB to buy out its 30% stake in DSBFirst Väst, which operates services around Göteborg under an eight-year contract which started last December.
Since January 2009 regional services across the Øresund bridge have been operated by DSBFirst under interlinked Danish and Swedish contracts. FirstGroup has told DSB it also intends to exercise its option to withdraw from this joint venture, but DSB has asked the UK firm to delay until DSB's internal financial issues are resolved.
DSB is also undertaking a review of options for its remaining Swedish activities.