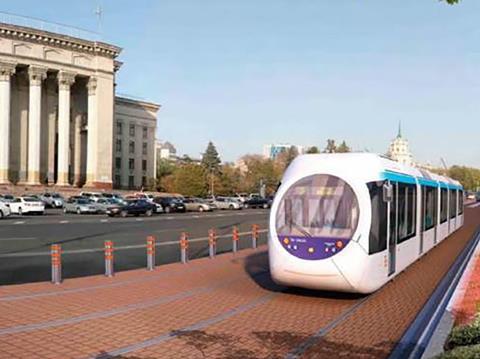 KAZAKHSTAN: Almaty municipality has shortlisted four bidders for the 26-year PPP contract to design, build and operate a light rail line in the city.
The shortlisted bidders are:
Itochu, Makyol and CAF;
China Machinery Engineering Corp, China High Speed Railway Technology Co and China Railway 22th Bureau Group Co;
Alstom, Marubeni, Gülermak and Meridiam;
ENKA.
Five of the bids received were not shortlisted, including four from Chinese bidders and one from a Russian consortium.
The concession period includes three years for financing, design, construction and commissioning, and 23 years of operations and maintenance following the planned opening in 2022. When the concession period ends, the line would be transferred to the city's transport authority.
Construction of the 22·7 km route with 37 stops is planned to start this year. Ridership is estimated at 76 000 to 112 000 passengers per day, and services are to be operated with a fleet of 36 low-floor light rail vehicles.
The city would be responsible for the public element of financing, which would include 50% of the capital cost. It would also retain ridership risk, and would receive all fare revenue.
The private contractor would be paid an availability and quality fee to cover its investment and ongoing costs. It would also receive advertising and ancillary retail revenue.