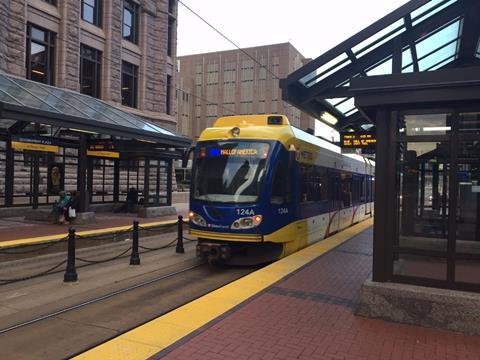 USA: The Federal Transit Administration has approved the start of engineering work for the Blue Line light rail extension serving northwest Minneapolis, the Twin Cities Metropolitan Council announced on January 19.
Coming just a month after the approval of the Southwest LRT Green Line extension, the decision will allow the project team to push ahead with detailed design ready for a start of construction in 2018. FTA had approved the environmental review for the Blue Line extension in September 2016, and the project design is expected to reach a 60% level of detail by the end of March.
According to project director Dan Soler, the 20·9 km Blue Line extension will create around 6 500 jobs during construction. When it opens in 2021, the line will provide access to about 155 000 jobs along the route, but this figure is expected to reach 180 000 jobs following the announcement of commercial and industrial development totalling $358m within 800 m of the proposed route.
Metropolitan Council Chair Adam Duininck said the authority expected to apply for a Full Funding Grant Agreement later this year, and hopes to receive a federal commitment by early 2018. 'Our region has a strong reputation nationally for successfully delivering on transit projects', he explained. 'The Blue Line Extension has achieved this milestone because the project has support at the federal and local levels and from the business community.'
Around 90% of the local funding for the project has already been committed by the Counties Transit Improvement Board, Hennepin County Regional Railroad Authority, the city of Brooklyn Park, Minnesota Department of Transportation and Hennepin County. The remaining 10% must be secured before applying for the FFGA, under which FTA would pay $753m to cover 49% percent of the total capital cost.