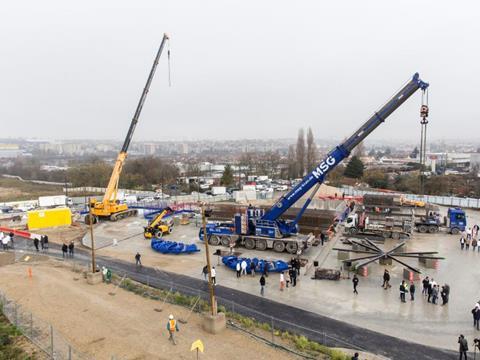 FRANCE: A €718·8m contract to build the eastern section Grand Paris Express automated metro Line 16 has been awarded to Salini Impregilo, Societé du Grand Paris announced on October 19.
The Lot 2 contract covers the excavation of 11·1 km of tunnel, running from the junction for the Aulnay depot spur to the Bel-Air shaft at Chelles, along with the construction of four stations at Aulnay, Sevran-Beaudottes, Sevran-Livry and Clichy Montfermeil and related works.
This is the second of three main works contracts to be awarded for the 29 km Line 16, which will have 10 stations in total including eight interchanges. Being built at a total cost of €5·5bn, the line is scheduled to open in 2024.
The Italian construction group says it plans to assign 20% of the value of the contract to local subcontractors, and to ensure that 5% of all hours worked on the project will be allocated to 'disadvantaged' workers.
'The fact that we have awarded this contract to an Italian company shows the attractiveness of the project to the European construction industry and our ability to appeal to new players in a highly pressurised construction market', said SGP President Thierry Dallard.
The Line 16 deal is the second Paris metro contract to be won by the Italian firm this year, 20 years after it worked on the construction of RER Line E. In March, a joint venture of Salini Impreglio and NGE won a €203m contract to build the southern extension of driverless Line 14 to Orly airport.