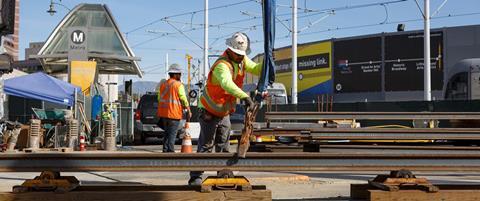 USA: Services on Los Angeles' Gold light rail line will be split into two sections with effect from October 24, as the city embarks on the final stage of its $1·8bn Regional Connector project.
Services will be suspended between Union Station and Pico/Aliso for 22 months and the current stop at Little Tokyo/Arts District will be demolished to make way for connections into the 3 km cross-city tunnel which is being built to link the Gold Line with the Long Beach and Expo routes.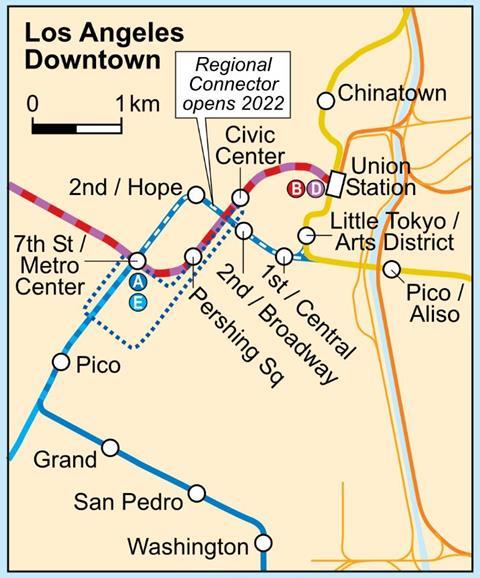 L Line light rail services will continue to operate on the northern section of the route from Union Station to Pasadena and Asuza. The East Los Angeles branch will run from Atlantic to Pico/Aliso, with a connecting bus shuttle providing interchange to the northern section and the Red/Purple Line metro at Union Station.
The Regional Connector tunnel runs from the current Blue and Expo Line terminus at 7th/Metro Center to a triangular junction with the Gold Line, serving three underground stations at Bunker Hill, Historic Broadway and Little Tokyo/Arts District. Due to open towards the end of 2022, it will connect up the three existing lines to create two cross-city routes.
The current Expo Line from Santa Monica will be extended through to East Los Angeles, using the southern section of the Gold Line. The Blue Line from Long Beach will be projected to Pasadena and Asuza using the northern part. As well as providing through services and direct access to the city centre, the connector is expected to relieve the core section of the Red/Purple Line between the interchanges at Union Station and 7th/Metro Center.