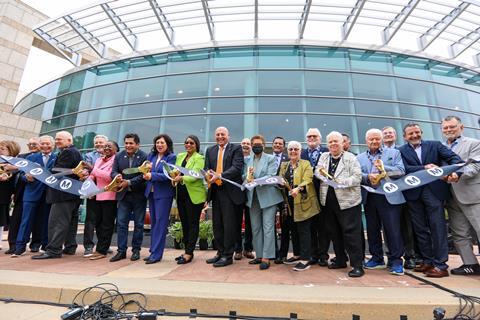 USA: The Los Angeles urban rail network has been extensively reshaped with the opening of the 3 km light rail Regional Connector between Union Station and 7th Street/Metro Center.
Following a formal inauguration on June 16 attended by city and state officials, a weekend of free travel was offered across the entire network.
The much-anticipated connection links LA Metro's previously isolated Gold Line with the Blue and Expo lines to create two through routes, avoiding the need for passengers to change onto the heavy metro Red or Purple lines. It serves three new underground stations in the city centre: Little Tokyo/Arts District, Historic Broadway and Grand Avenue Arts/Bunker Hill.
A Line services using the original Blue Line from Long Beach have been extended through the connector and continue over the northern arm of the L-shaped Gold Line from Union Station to Pasadena and Asuza. E Line services from Santa Monica run through to serve the southern arm to East LA. The two routes share the cross-city core, offering easy interchange at five intermediate stations.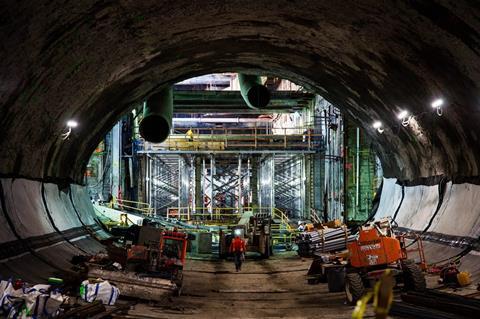 Built by the Regional Connector Constructors joint venture of Skanska USA and Traylor Brothers at a cost of $1·8bn, the link has taken 10 years to build. Completion is around three years later than anticipated, and the budget has increased by $400m. The federal government has contributed around $1bn of the funding, with the remainder coming from four local sales tax measures.
The Regional Connector is expected to encourage ridership growth across the entire urban rail network. LA Metro anticipates that it will be carrying around 90 000 passengers/day by 2035, including 17 000 new users.
'People are going to love the newfound connectivity', said LA Metro CEO Stephanie Wiggins. 'We have built a beautiful, useful and state-of-the-art rail transit project that everyone in LA County will be able to use.'