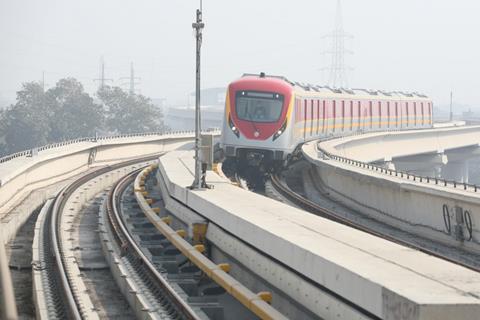 PAKISTAN: The country's first modern metro was opened on October 25, when the Chief Minister of Punjab Sardar Usman Buzdar inaugurated Lahore's Orange Line.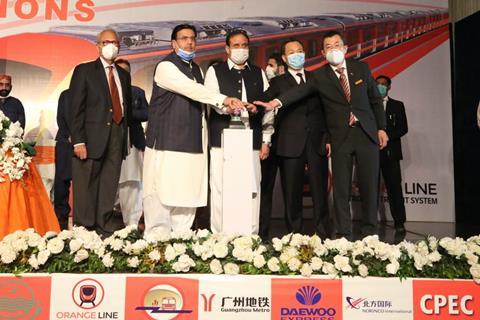 The line runs for 27·1 km serving 26 stations on a mostly-elevated alignment, with a 1·7 km tunnelled section in the city centre. Starting from Ali Town in the southwest it follows Multan Road to reach underground stations at Anarkali Bazaar and Central, then runs via the main line station and east along Grand Trunk Road to Dera Gujran.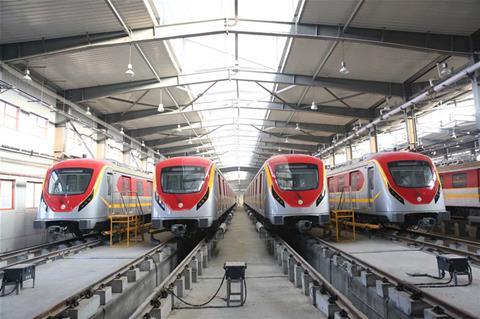 CRRC Zhouzhou has supplied a fleet of 27 five-car Type B trainsets, with the first delivered on May 15 2017, and a further 27 are expected to arrive by 2025. The trains are maintained at North depot, beyond the eastern terminus at Dera Gujran, and a stabling yard has also been provided at Ali Town. Traction power is from a 750 V DC third-rail supply.
Dynamic testing began on October 8 2017. The trains are expected to operate at up to 80 km/h, offering an end-to-end commercial speed of nearly 35 km/h. Design capacity of the line is 250 000 passengers per day.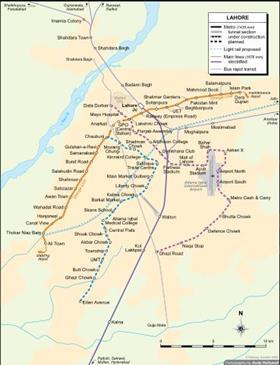 A metro for Lahore had been proposed in 1991, and again in 2005, but the plans stalled until a memorandum of understanding was signed with China in May 2014 under the umbrella of the China Pakistan Economic Corridor. The Punjab provincial government subsequently agreed a Rs162bn soft loan with China's Exim Bank the following year to fund the project.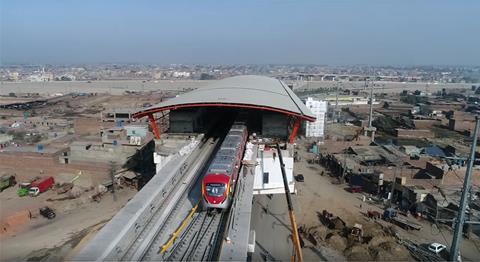 Construction of the west-east Orange Line began in October 2015. The line has been built by China State Railway Group Co and China North Industries Corp with civil works undertaken by local contractors creating an estimated 7 000 jobs.
Two further lines are currently being planned. The Blue Line would run south from Chauburji on the Orange line for 24 km serving 22 stations, whilst the 32 km northwest-southeast Purple Line with 20 stations would serve the city's international airport.