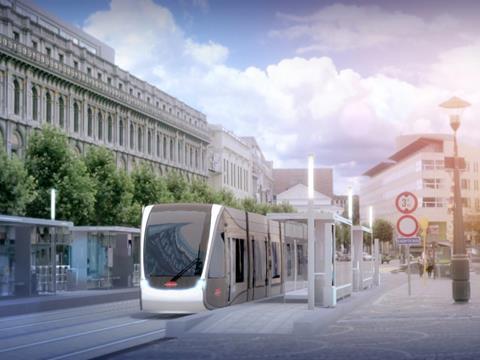 BELGIUM: Opérateur de Transport en Wallonie has selected the Colas-led Tram'Ardent consortium as preferred bidder for a revised concession to design, build finance and maintain the long-planned tram route in Liège, the regional transport authority announced on September 19.
The consortium brings together Colas Projects, Colas Belgium, Colas Rail and Colas Nord-Est plus Spanish rolling stock manufacturer CAF and the DIF Infrastructure II fund backed by the European Investment Bank. Subject to approval by the regional government, OTW expects to sign the contract before the end of this year, with construction to start in 2019 and completion anticipated during the second half of 2022.
Running for around 90% on reserved tracks, the 11·7 km route with 21 stops will connect Sclessin multimodal interchange in the southwest to the suburb Herstal in the northeast via Liège Guillemins station and Place Saint Lambert in the city centre.
The new PPP concession replaces an earlier contract awarded to the MobiLiège consortium of Alstom, BAM and DG Infra which was overturned in 2015 following objections to the financing package. Three consortia had submitted bids for the revised package tendered in 2016, but the Škoda-Vinci-CFE-Meridiam grouping withdrew the following year, leaving Tram'Ardent and MobiLiège 2.0 to submit best and final offers in September 2017.
Two subsidiaries will be created to progress the project. A construction consortium led by Colas Projects will design and build the line and its maintenance depot at Bressoux. This consortium will also develop 240 000 m² of surrounding urban space 'to promote soft mobility'. CAF will supply a fleet of 20 Urbos 100 trams, 45 m long and 2 650 mm wide, as well as its ACR energy storage and charging system to be used on catenary-free sections of the route.
A separate company also combining the Colas companies and CAF will be established to maintain the infrastructure and equipment over the life of the 30-year concession. OTW (as successor to regional transport authority SWRT) will operate the line directly under the existing TEC brand, and will pay Tram'Ardent €40m a year for use of the assets.