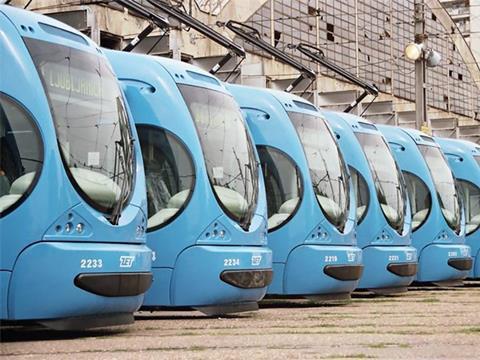 CROATIA: The city of Zagreb called tenders on November 21 for contracts covering design work for the first phase of a planned tram line to Zagreb Airport.
The first phase would link Kvaternik Square with Velika Kosnica to the southeast of Zagreb. Construction would start on a 2·4 km section with six stops between Vukovar Avenue and Savišće, before moving to the 1·3 km, three-stop section immediately north of this, running from Vukovar Avenue to Zvonimirova Street. The southern section, running 4·4 km from Savišće to Velika Kosnica with four stops, would follow. This would include the laying of tram tracks on the existing Domovinski Bridge over the River Sava. The final part would be the 400 m northernmost section from Zvonimirova Street to Kvaternik.
The second phase of the airport line, running south from Velika Kosnica, would be 4·8 km long. In the longer term, the line could be extended to run past the airport to Velika Gorica, a satellite town of 64 000.
The airport line is expected to cost €50m to build and could open as early as 2019, although no official timeline has been set.