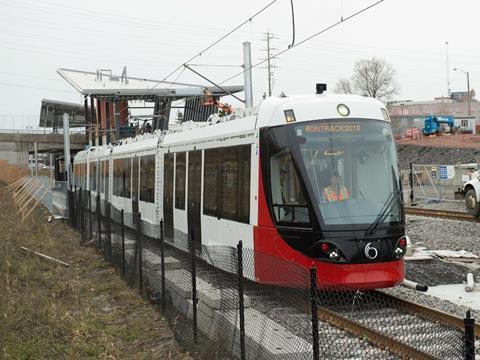 CANADA: Test running on the O-Train Confederation Line in Ottawa began on December 2, with a light rail vehicle operating between Blair and Cyrville at the eastern end of the route.
The first phase of testing, due to last until the end of March, includes static testing at the Belfast Yard depot and dynamic testing on 4 km of track. The next series of tests will take place using a pair of coupled LRVs.
'Construction on the O-Train Confederation Line project supports our objectives of developing an integrated transportation network across Ontario that will help manage congestion, connect people to jobs and improve the economy and our quality of life', said Ontario Minister of Transportation Steven Del Duca.
The 12·5 km light rail route will link Blair in the east with Tunney's Pasture in the west, serving 13 stops. Three of these will be in a 2·5 km tunnel under the city centre, and interchange with O-Train Trillium Line will be provided at Bayview near the western end of the Confederation Line. Revenue services are expected to begin in 2018.
The Rideau Transit Group consortium of SNC-Lavalin, ACS Infrastructure, EllisDon, Dragados Canada and Veolia Transportation Services is building the line. Alstom will maintain the infrastructure for 30 years under a C$180m contract awarded earlier this year and is supplying 34 Citadis Spirit low-floor LRVs under a separate C$575m contract dating from 2013; this also includes 30 years of maintenance. The 100 km/h vehicles are being assembled in the future maintenance depot at operator OC Transpo's Belfast Yard.
The C$2·1bn Confederation Line project includes C$600m from the federal government and up to C$600m from the province of Ontario. The city of Ottawa will provide up to C$448·5m from petrol tax revenue, with the remainder of the project cost coming from other sources.