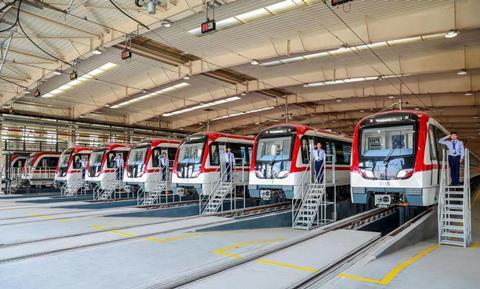 CHINA: The first metro line in Xuzhou opened on September 28. This gives Jiangsu province five metro networks, surpassing Guangdong's four, to make it the province with the most.
The east-west Line 1 links Xuzhou Dong Railway Station with Luwo, serving 18 stations. Most of the 21·9 km route is underground, with the western 900 m and Luwo station on an elevated alignment.
CRRC Nanjing has supplied a fleet of six-car Type B trainsets with a crush-load capacity of 2 146 passengers. Services operate at peak headways of 8 min and off-peak frequencies of 9 min 40 sec. The end-to-end journey time is 40 min.
Construction started in February 2014 and cost 16·3bn yuan. Two more metro lines with a combined length of 42·5 km are due to open next year, and in the longer term three more lines would bring the city's metro network to 169·2 km with 127 stations.