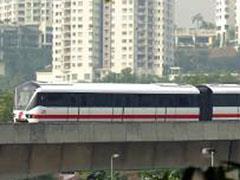 MALAYSIA: Government infrastructure company Syarikat Prasarana Negara Bhd has obtained approval from the Department of Railways to expand the Kelana Jaya automated metro and Ampang light rail lines in Kuala Lumpur.
Tenders for rolling stock and E&M equipment for the first phase are due to be issued next month.
The Kelana Jaya Line will be extended by 12 km from Kelana Jaya to Station 10 at USJ Sabang, while the Ampang extension will be 15·2 km long from Sri Petaling to Station 11 at Taman Puchong Prima. Each extension will have 13 stations.
Cable and utility relocation has already commenced, and infrastructure packages are currently being tendered to prequalified bidders. The project will be part-financed by a 4bn ringgit Islamic bond programme guaranteed by the government.
On July 23 the Ministry of Communications signed a 4bn yuan contract with CSR Zhuzhou for 38 six-car EMUs to work Kuala Lumpur's north-south commuter route.