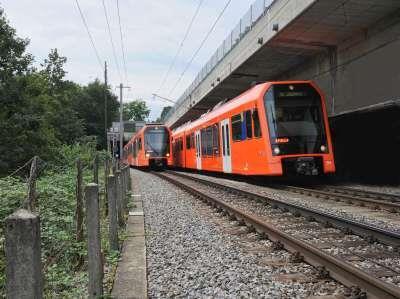 SWITZERLAND: Regionalverkehr Bern-Solothurn announced on January 24 that it had exercised its option to buy a further eight NExT low-floor EMUs from Stadler, at a cost of around SFr64m.
The first six trainsets have been operating express services on the metre-gauge line between Solothurn and Bern since 2009. This has allowed RBS to add capacity during peak periods to meet growing demand. The additional eight 120 km/h EMUs will enable RBS to operate its entire service on the route between the two cantonal capitals using NExT units.
The air-conditioned NExT EMUs were designed by Stadler specifically for RBS, and feature video surveillance and fire-extinguishing equipment as well as through gangways. Each trainset has seats for 18 first class and 136 second class passengers and standing room for a further 289.
Delivery of the additional eight sets in 2013 will allow RBS to redeploy the 20 year-old EMUs currently used on its Bern – Solothurn route. Following refurbishment, these will be transferred to Line S8 between Bern and Urtenen in 2014, replacing the operator's oldest stock dating from the 1970s. The use of longer trains will add 20% more capacity on this line.
RBS Director Hans Amacker says the initial NExT sets have proved very popular. 'These modern, very carefully designed trains have a seductively elegant, functional design, offering the passenger the greatest possible space', he reports.