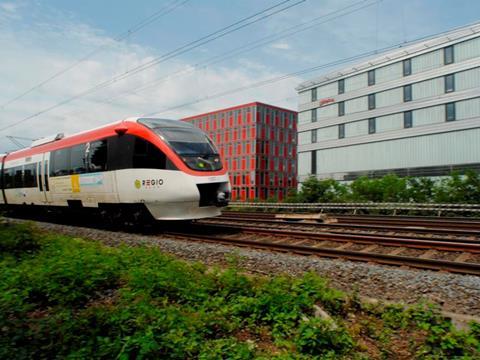 GERMANY: Rhein-Ruhr transport authority VRR is to award incumbent Regiobahn a contract to operate the expanded S-Bahn service S28 for 15 years from December 2021.
Regiobahn was founded in 1992 and is owned by a group of local authorities on the Kaarster See – Neuss – Düsseldorf – Erkrath Nord – Mettmann Stadtwald route, which includes the operator's own tracks as well as running over the national network.
Rehabilitation of a former continuation of the line eastwards and the construction of 1·8 km of new alignment will enable service S28 to be extended from Mettmann Stadtwald to Dornap-Hahnenfurth and Wuppertal Hbf from December 2019.
Electrification of the complete route will support the introduction of 10 Stadler Pankow Flirt3XL electric multiple-units with 180 seats and high capacity interiors designed for rapid boarding and alighting. These will replace the current Bombardier Talent DMUs.
A new Hahnenfurth-Düssel station is to be opened, and all platforms will be modified to a standard height of 760 mm to support level boarding. Services will run ever 20 minutes during the day and every 30 min at evenings and weekends.
'Passengers will benefit from a direct connection from Mettmann to Wuppertal', said VRR Chairman Martin Husmann on July 18. 'In combination with modern rolling stock and a demand-oriented timetable, this is a further step towards a high-quality S-Bahn service in the region.'