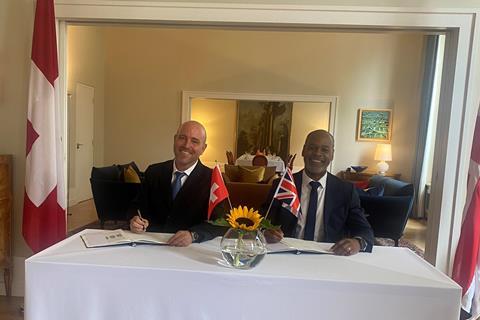 EUROPE: UK infrastructure manager Network Rail has launched an International Research & Development partnership programme to strengthen ties with other railways by sharing knowledge and best practice.
Projects would be jointly funded, with responsibility for resources, testing capabilities and best practices shared through both in-person and online workshops.
As the first step, a memorandum of understanding was signed with Swiss Federal Railways on July 25.
Network Rail and SBB will initially look at the use of AI technology in the inspection of steel bridges and turnouts, and at remote condition monitoring for light rail applications.
'Looking at what works and what doesn't will help us shape and develop innovative technology that will go towards modernising the railway', said Network Rail's Chief Technology Officer Robert Ampomah. 'There has always been a history of information sharing with rail colleagues nationally and internationally but signing the MoU today with SBB solidifies our commitment to work more closely together.'
SBB's Head of Technology Roland Moser said 'by jointly improving our operational excellence we strive for the best returns for our passengers and customers. The signing of the MoU with Network Rail is one giant step in keeping the momentum moving in the right direction.'