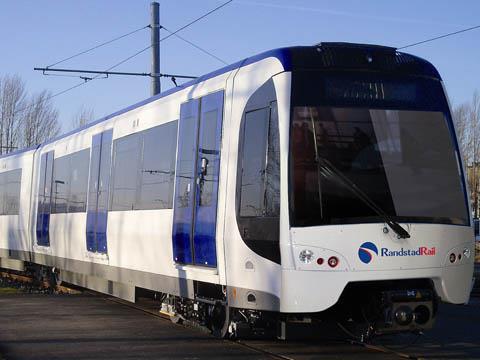 NETHERLANDS: Rotterdam operator RET has started a rebranding programme under which the Caland and Erasmus line names are being dropped.
To be completed by December, the reorganisation is intended to help visitors and occasional travellers to use the metro. It also paves the way for completion of the Blijdorp tunnel link between Rotterdam Centraal station and the RandstadRail line to Den Haag, now expected in mid-2010, and the future extension of metro services from Schiedam over the existing railway to Vlaardingen and Hoek van Holland.
The east-west Caland Line, which has three branches in the northeast, will become three routes. Line A will run from Binnenhof to Schiedam Centrum and later to Vlaardingen West. Line B will run from Nesselande to Schiedam Centrum and eventually Hoek van Holland. These two routes share the sneltram tracks through Alexander. Line C will run from De Terp in Capelle an der Ijssel to De Akkers via Schiedam and the Benelux tunnel.
The north-south Erasmus Line between Rotterdam Centraal and De Akkers becomes Line D, and the RandstadRail service from Den Haag will be Line E. When the Blijdorp link opens, Line E services will be extended to Slinge.