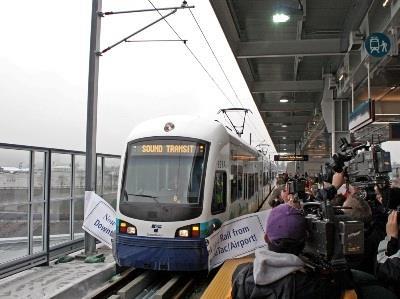 USA: The final 2·7 km section of Sound Transit's $2·3bn Central Link light rail line opened for revenue service at 10.00 on December 19 following an inauguration ceremony during which a train burst through a ribbon at Sea-Tac/Airport station.

The initial 22·4 km of track running south from downtown Seattle to Tukwila opened in July (RG 8.09 p29), but construction of the airport extension was delayed by financing difficulties.

Sound Transit and the Port of Seattle collaborated to build the Airport Link project. Sea-Tac/Airport station is located about 400 m from the terminal building and is connected to the airport by a pedestrian walkway. The trip from the city centre takes 36 min with 13 stops en-route serving Beacon Hill, Rainier Valley and Tukwila.

'This opens an entirely new option for travellers and commuters, and represents the first steps of a truly regional network', said Greg Nickels, Mayor of Seattle and chair of Sound Transit Board.

Construction is already underway on a 4·8 km northern expansion of the line to Capitol Hill and the University of Washington, which is due to open in 2016.