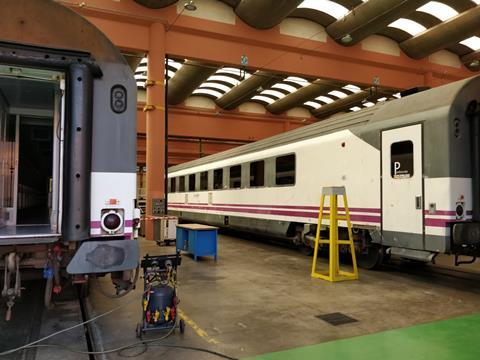 PORTUGAL: National operator CP has completed the purchase of 51 hauled coaches from Spanish counterpart RENFE as part of its efforts to mitigate an acute shortage of rolling stock.
Initial negotiations started in February, when CP anticipated buying only 16 vehicles for €404 000, but the final agreement reached in late June sees CP acquire a larger fleet for €1∙6m. The coaches are available because RENFE has opted to dispense with most locomotive-hauled formations for its inter-city services, replacing them with high speed trainsets and inter-regional EMUs. The deal marks CP's first investment in hauled coaches since the 1980s.
CP plans to spend approximately €120 000 per vehicle to refurbish the stock, which it says is a cheaper option than procuring new coaches at a cost of around €2m each.
The first batch of 18 coaches is already in Portugal, RENFE having moved them to the border at Vilar Formoso, from where CP hauled them to the recently-reopened Guifões workshop at Matosinhos near Porto. According to CP, the vehicles in the best condition could be in commercial service within three months. The remaining 33 are currently located in Madrid, Malaga and Bilbao and are expected to be delivered to Guifões in the coming weeks.
Of the 51 cars, 36 were used on RENFE's Arco conventional inter-city services at up to 220 km/h; the remaining 15 were part of the Estrella fleet, and will need the most significant refurbishment work. All will eventually leave Guifões sporting CP livery and branding.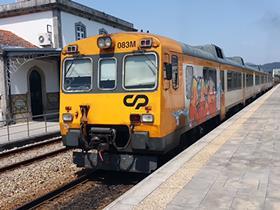 CP intends to use the vehicles to augment the 102 coaches in its Intercidades fleet used on the Faro – Lisboa – Porto corridor, but the acquisition will also enable it to improve the standard of some regional services. Electrification of the Minho line between Porto and Vigo is due for completion next year, and loco-hauled trains could replace the 40-year old Class 592 DMUs currently used by CP on the route. These sets are themselves leased from RENFE under a long-term agreement.
Meanwhile, CP is making good progress with the refurbishment of 19 withdrawn Class 2600 and Class 2620 electric locomotives supplied by Alsthom and Sorefame in 1974-87. This is part of a medium-term business plan for its maintenance subsidiary EMEF to reactivate around 70 vehicles, supporting efforts to improve the skills of the local supply industry.