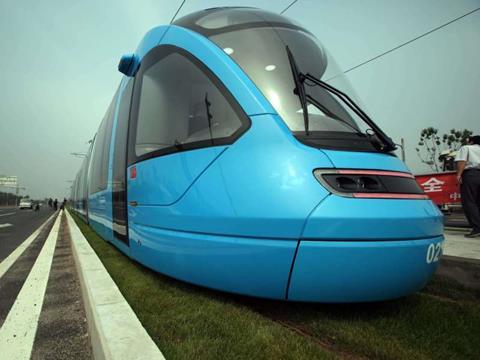 CHINA: The Shenyang tramway opened on August 15, in time for the 12th National Games being held in early September. Revenue service is to begin on September 15, with free travel in the interim.
Lines 2 and 5 are fully open, and Line 1 is partly open. Line 3 is open for testing, but is not open to passengers yet. When all four lines are fully open, ridership is expected to reach 150 000 passenger-journeys per day on the 60 km network in the Hunnan High-Tech development zone in the south of the city.
CNR Corp has supplied 30 trams, of which one-third are 100% low-floor and the rest are 70% low-floor. The trams are 2 650 mm wide. The 100% low-floor trams are 34·4 m long, with capacity for 360 passengers, whereas the 70% low-floor trams are 28·8 m long, with capacity for 300 passengers. Each tram contains 65 seats, as well as wheelchair spaces. Each car has four sets of doors.
Nicknamed 'dolphin' trams, the 100% low-floor vehicles have been widely praised for their attractive exterior design. The floor, sides and roof are not welded but glued to save weight. Two roof-mounted air-conditioning units and underfloor heating coils are installed to improve passenger comfort during the extremes of Shenyang's weather.
Voith has supplied two DI1000-5AR traction inverters per tram, with four supercapacitor energy storage units. This allows the trams to travel up to 700 m without an external power supply, which avoids complicated catenary arrangements at junctions. Four traction motors give the trams a maximum power of 700 kW.
Earlier this year a joint venture of Transdev and RATP Dev signed a 330m yuan, three-year contract with Shenyang city to operate the line.