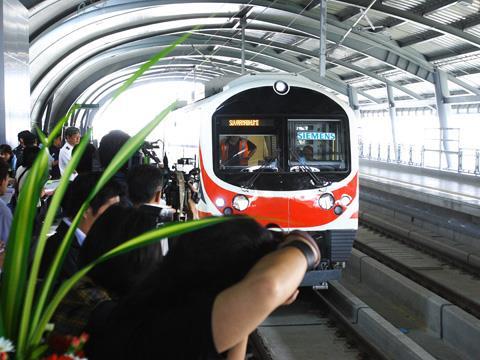 THAILAND: A joint venture for local passenger vehicle production has been agreed between Siemens and Cho Thavee Dollasien Ltd. The two parties are expected to sign a memorandum of understanding this month paving the way for a 50:50 partnership.
Speaking in Bangkok on May 22, Siemens Mobility CEO Hans-Jörg Grundmann said that the partners hoped to win a contract to supply up to 115 passenger trainsets to State Railway of Thailand, for which tenders are expected to be issued later this year.
From its factory at Khon Kaen, CTD has already built dining cars and refurbished passenger rolling stock for SRT. Under the joint venture, it would assemble bodyshells and interior fittings locally. Detailed design and bogies would be supplied by Siemens from its Wien facility.
Speaking to local media, Grundmann said that he expected fierce competition for the contract from 'Chinese and South Korean manufacturers', but he foresaw strong demand going forward, especially in the urban rail segment, with Thailand experiencing a rapid rate of urbanisation.
'Siemens is ready to be a pioneer in manufacturing rail vehicles in Thailand and we hope this collaboration will support the Thai government's vision of bringing in international expertise. Siemens already has 500 people working in Thailand', he added. 'We are here to stay.'