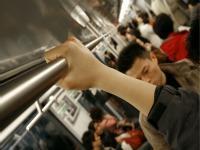 SINGAPORE: The Land Transport Authority has awarded a €240m contract to Alstom covering the supply of 34 driverless Metropolis trainsets for the Circle and North East lines, as well as signalling upgrades for both routes.

NEL will receive 18 six-car trainsets and another 16 three-car sets will be supplied to CCL. They will be updated versions of the Metropolis fleets is already in service on both lines.

The first trainset is due to be delivered in 2015 with final dispatch in 2016.The extra trains will boost capacity across the network where daily public transport ridership has gone from 1∙78 million in 2009 to over 2 million in 2010.

Alstom will design the Metropolis trainsets in Europe and produce them through two subsidiaries based in China: Shanghai Alstom Transport Co Ltd and Shanghai Alstom Electrical Equipment Co Ltd.

'These projects show Alstom's expertise in interfacing our technology with existing infrastructure and meeting customer expectations', said Alstom President Henri Poupart Lafarge. 'We are very proud to be part of these projects as they will provide greater transportation convenience to many passengers in Singapore'.