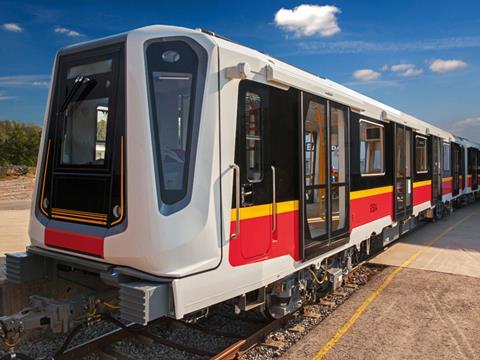 BULGARIA: The contract to supply rolling stock and signalling for Sofia metro Line 3 came into effect on March 15 with the confirmation of 70% EU funding. Sofia Metropoliten placed the €140m order with a consortium of Siemens and Newag in September.
The scope covers 20 three-car trainsets and signalling for the 8 km, eight-station first phase of the east-west line, due to open in 2019. Siemens will supply Trainguard MT onboard and wayside communications-based train control equipment, Trackguard interlockings, Controlguide OCS train control, voice radio and data transmission, SCADA, the wayside digital communication network and half-height platform edge doors. The trains will be built with driver's cabs, although the line will be equipped for GoA3 automated operation.
The rolling stock order includes options for up to 10 more trainsets. These will be based on Siemens' Inspiro family, with car bodies supplied from Siemens' Wien plant and bogies from Graz. Final assembly and static testing will take place at Newag's plant in Nowy Sącz in southern Poland, and Newag will be responsible for servicing during the warranty period. The air-conditioned trainsets will be fitted with pantographs.
The partly underground Line 3 will eventually reach 18 km long with 18 stations.