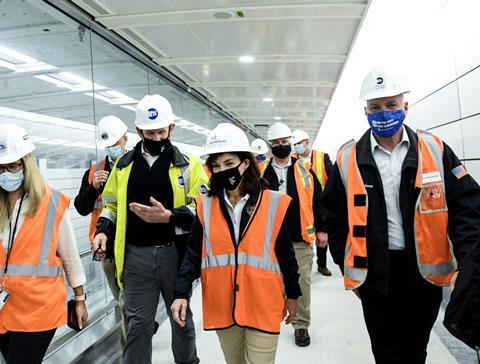 USA: Governor of New York State Kathy Hochul was among the first dignitaries to travel by rail into Long Island Rail Road's deep-level platforms being built beneath New York's Grand Central Terminal, arriving on a special train on October 31.
Expected to open for revenue service in December 2022, the deep-level hub is being built 15 storeys below the historic main concourse at GCT, as part of New York MTA's long-running East Side Access programme, now costed at $11bn.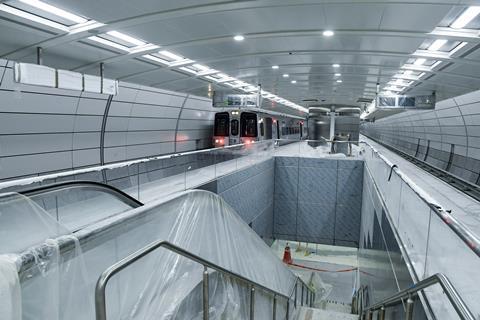 First planned in the mid-1960s, the ESA programme has seen the construction of a new link built between GCT and Long Island via a remodelled junction at Harold Interlocking, enabling LIRR services to reach GCT for the first time, complementing the existing Metro-North commuter rail operation which uses the upper levels of the station.
Here's the first LIRR test train carrying passengers, including @GovKathyHochul, into Grand Central Terminal's East Side Access this morning pic.twitter.com/q1GRRbYw2Z

— Kevin Duggan (@kduggan16) October 31, 2021
The project is intended primarily to relieve pressure on LIRR's main Manhattan hub at Penn Station. Using the deep-level terminus at GCT should also shorten journey times for passengers heading to and from the eastern part of Midtown, reducing the need for short Subway journeys to and from Penn. Alongside the completion of a triple-tracking programme on Long Island itself, ESA could increase LIRR capacity by around 50%, MTA says.
Delays
Construction of the new station caverns began in 2006, but the programme has been beset by construction challenges and delays, partly caused by difficult ground conditions beneath the city centre. These required extensive use of drill and blast excavation.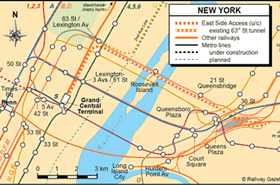 In total, 5∙6 route-km of new alignment has been built, including two single-track tubes beneath the East River that were built in the 1960s as part of a Subway expansion project but never fitted out. The station itself consists of a pair of adjacent twin-level caverns, housing eight platform faces that will be able to handle up to 24 trains/h. Other key elements of the ESA programme include construction of turnback tracks south of GCT beneath 37th Street, and a Midday Storage Yard at Sunnyside in Queens with capacity to stable around 300 EMU cars. Programme manager is URS Corp, supported by Lead Tunnel & Station Contractor Dragados USA-Judlau.
A new passenger concourse has been built just below street level to serve the LIRR station. According to MTA, this is the largest passenger facility to be built in the USA since the mid-1950s, occupying more than 32 500 m2. From this concourse, no fewer than 17 escalators, each 55 m long, and 22 lifts will take passengers to and from a mezzanine level far below, from where they will access the upper and lower 'train decks'.
Inspecting the new facilities during the test run, Hochul described the East Side Access concourse as 'a model for modern transportation systems as we look to the post-pandemic future' and 'the first modern train terminal to be built in more than a half century'. She said completion of the project would 'expand rail service, cut down on travel times into East Manhattan from Queens and Long Island, and reduce crowding. I look forward to the East Side Access concourse and route fully opening in December 2022.'
Learn more about East Side Access from our site visit in the June 2012 issue of Metro Report International, available to subscribers in our digital archive.