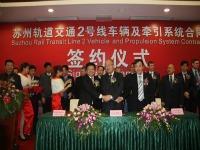 CHINA: Suzhou Rail Transit Line 2 Co has awarded Nanjing SR Puzhen Rail Transport a 526·9m yuan contract to supply 23 five-car Type B2 trains for the city's second metro line. The deal was signed on February 29, with deliveries scheduled to run from May 2013 to March 2014.
NPRT is a joint venture between Chinese rolling stock manufacturer CSR Corp and Singapore-based aluminium alloy component supplier Midas Holdings, which has a 32·5% stake. Skoda Electric will supply traction equipment for the trains.
Scheduled to open in 2014, Line 2 will run 26 km south from the high speed line station to Yingchunnanlu in Wuzhong Economic Development Zone, with 22 stations. Line 1 is nearing completion, and a total of four lines are proposed under a transport masterplan which was approved by the State Council in January.