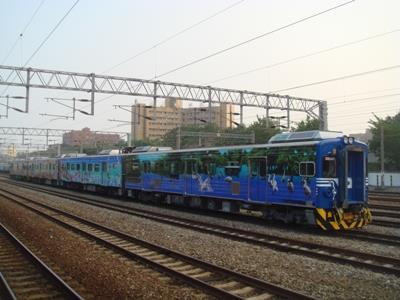 TAIWAN: The 6·5 km Shalun branch linking Tainan with the Taipei – Kaohsiung high speed line station southeast of the city was opened for passenger services on January 2, a month ahead of its expected completion in February.
Built by the Ministry of Transport & Communications' Railway Reconstruction Bureau, the line is the first new branch off the Taiwan Railway Administration network to be opened for 30 years. It is intended to form the first phase of Tainan's proposed mass transit network.
The branch diverges from TRA's west coast main line at Zhongzhou, south of Tainan, and runs east to Shalun station, which is connected to THSRC's Tainan high speed station by a 34 m walkway. The line includes 5·8 km on viaduct and 600 m on embankment, together with an intermediate station at Chang Jung Christian University.
First proposed in 2002, the project was finally authorised by the government in 2004. Work began in January 2005, when completion was originally expected by the end of 2009. Total cost of the project was put at NT$4·8bn, including track, electrification, signalling, the two stations and remodelling at Zhongshou.
The line is being operated by TRA, with a fleet of four dedicated Class 600 EMUs repainted into a distinctive livery providing 70 services per day. End-to-end journey time between Tainan Main station and Shalun is 21 min, compared with 50 min for the former shuttle bus to and from the high speed station. Some trains run through from Shakun to Nanke, serving additional several stations in the north of the Greater Tainan region. To encourage ridership, TRA is offering free travel until January 15.
RRB is currently working a similar project to provide local services to and from THSRC's Hsinchu Station using TRA's existing Neiwan Branch; this is expected to open in October.