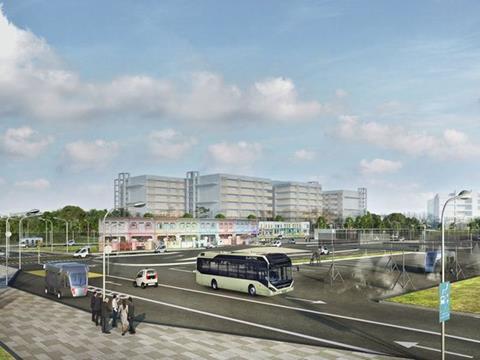 SINGAPORE: Volvo Buses and Nanyang Technological University announced on January 11 that they had signed a co-operation agreement for a two-year driverless bus research project.
Two Volvo 7900 Electric 12 m long buses are to be used, with proof-of-concept trials taking place in Sweden, before the buses arrive in Singapore in early 2019.
The buses will be tested at NTU's Centre of Excellence for Testing & Research of Autonomous vehicles, a test circuit modelled on real road conditions. This includes a rain simulator and flood zone to test vehicles' navigation in tropical weather conditions. The trials will also allow researchers to assess the buses' interaction with pedestrians.
Bus operator SMRT will determine the buses' roadworthiness, and will assist in operational trials. One bus will undergo tests in an SMRT depot to test autonomous navigation into washing bays and charging areas.
The buses will be fitted with GPS and LIDAR for positioning and obstacle detection, and will be equipped with an integrated navigation system that includes automated steering, gear changing, and speed control technologies.
ABB will supply and assess the charging infrastructure. Based on the OppCharge interface, the 300 kW charging will charge the bus batteries in 3 to 6 min.
The project comes under the auspices of the Land Transport Authority and NTU's living lab platform announced in October 2016. This aims to assess technology maturity and roadworthiness, including the certification of the technology for public roads.
'We have a vision to transform NTU into a smart campus that embraces technology to improve everyday life, and ensures the sustainability of resources', said NTU President Subra Suresh. 'We hope that the solutions created out of this programme will contribute significantly to Singapore's ambition of adopting autonomous vehicle technologies and enhancing public transportation.'
Volvo says that this will be its first autonomous public transport vehicle project. The company had previously developed driverless concept vehicles for mining, quarrying and refuse collection.