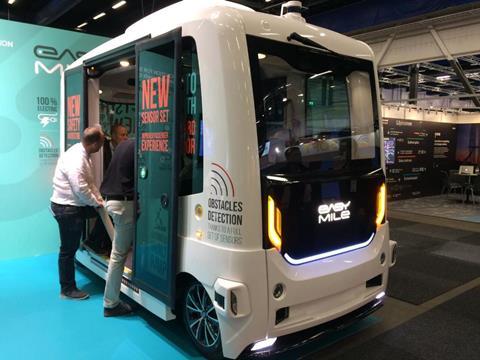 EASYMILE: Toulouse-based EasyMile unveiled an upgraded version of its EZ10 driverless electric shuttle at the UITP Global Public Transport Summit 2019.
As well as a redesigned sensor providing a wider field of vision, the vehicle has a new safety architecture that enables operation without an on-board attendant, according to EasyMile. Other improvements include more comfortable seats, seat belts and ADA-compliant wheelchair anchor points.
EasyMile launched the EZ10 in April 2015, since when several passenger-carrying tests have taken place with an onboard attendant.
'EasyMile's technology has now reached a maturity and reliability level that allows us to deploy EZ10 shuttles without an attendant on board', said CEO Gilbert Gagnaire. 'Passengers' feedback has been very positive on all our tests and the legislation around the world is now coming together to enable this step forward.'