INTERNATIONAL: A partnership of 15 track, digital services and rail infrastructure specialists has been established to create what the members call an 'open innovation ecosystem' to enhance the efficiency and safety of railways globally.
Branded as the Digital Railway Solutions Alliance, the partnership was formally launched at the IAF track technology trade show in Münster on May 31.
The 15 founding members are:
3B Infra;
ASC German Sensor Engineering;
DGNSS Sensors;
DMA;
Dynamic Rail Utilities Monitoring;
Dual Inventive;
Ground Control Geophysics Consulting;
IVE;
LocLab Consulting;
Obermeyer Infrastruktur;
Plasser & Theurer;
ProVI;
RailRestore;
Track Machines Connected;
Vogel & Plötscher.
The founding members are initially focusing their work on five priority fields, all related to digitalisation of railway infrastructure and operational management:
Integrated Sensor Technology to create a 'holistic portfolio' of advanced sensors targeting key railway applications.
3D+ Infrastructure Data to monitor, access and maintain track assets using a digital twin, based on the combined expertise and sensor technology of the 15 partners.
End-to-End Asset Data Management which integrates and makes usable newly generated, digital asset data and historical information from paper and other archives.
AI-Based Predictive Infrastructure Management to optimise track and turnout management from assessment to execution.
Automated Services for Trackside Safety which would see automated maintenance equipment communicating with the network's train control system to schedule work slots while keeping track workers safe.
The alliance has been in gestation since an initial meeting between the interested parties in October 2021.
'As one of the participating companies in the two-day workshop, we identified key issues to solve, created a shared vision and how to collaborate to drive digital, end-to-end solutions jointly', said Ilka May, CEO of LocLab and a former co-Chair of the EU BIM Task Group.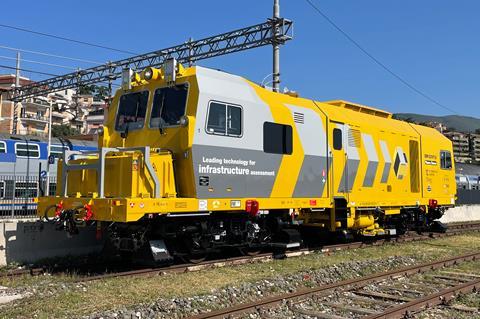 'Our alliance brings together best-in-class, technology driven companies, each with a determined focus on optimising railway networks utilising the latest advances in digital innovation, automation and data processing', added Florian Auer, Director of Global Technology & Innovation at Plasser & Theurer. 'We believe in the power of collaboration across our open innovation ecosystem. Together, our combined expertise and complementary technologies will serve to tailor optimal solutions for each individual customer.'
In its initial phase, the partners are to co-operate on deploying technology to improve 'critical railway infrastructure in Europe', explains Jan Mys, Technical Lead of the DRS Alliance and Managing Director of Global Rail Consulting. 'Starting in 2023 and beyond, we're planning to expand further afield to help reshape rail mobility across the globe.'
A key target market in this expansion is likely to be India, Railway Gazette International understands.