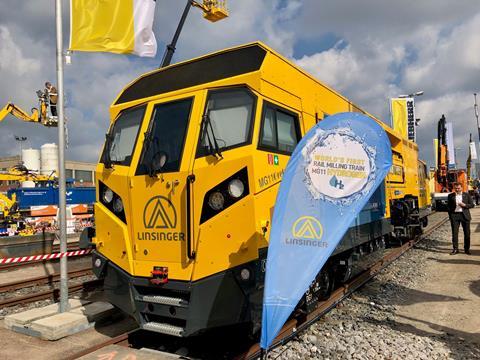 INTERNATIONAL: Linsinger says its hydrogen fuel cell powered rail milling machine is attracting interest from urban rail operators around the world, as its prepares to trial the vehicle on two European metros during July and August.
Speaking at the IAF trade show in Germany on June 1, Linsinger Chief Executive Günter Holleis said the machine would undergo real-world trials this summer before being shown at InnoTrans in Berlin in mid-September.
The machine had originally been unveiled at a virtual event in December 2020, but its appearance at IAF was its first public display.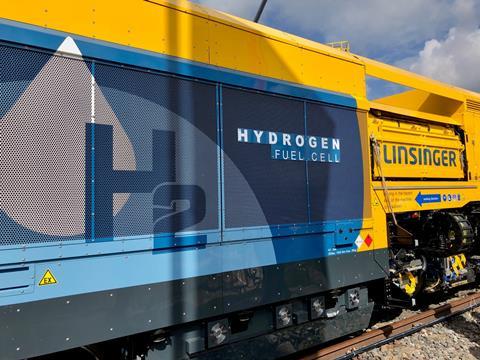 It has been developed by Linsinger's R&D department in a multi-year programme as part of the company's efforts to further reduce emissions from its on-track plant. It says the clean rail milling technology does not produce sparks, and it collects metallic by-products for recycling, meaning that eliminating the use of a diesel powerpack was one of the last obstacles in achieving truly low-emission machinery.
Holleis explained that this was especially important for metros, where track maintenance is often undertaken in extremely confined spaces in tunnels.
The MG11 H2 has been developed fro the existing MG11 rail milling train, but the internal layout has been completely redesigned to accommodate the fuel cells and battery packs. Technical Director Jürgen Binder said 'barely a single screw is left untouched'.
Nevertheless, the power output from the fuel cells was 'almost the same' as the diesel variant, and a key advantage of the H2 is that the battery packs can be used for back-up power and traction should there be any interruption to fuel cell function.
The MG11 H2 is 30 m long, weighs 39 tonnes and has a maximum speed of 60 km/h. It can work more than one full shift, including travelling to and from the work site, with one tank of hydrogen.
The Austrian company can also source and deliver hydrogen to the customer should that be requested, Binder added, noting that hydrogen supply infrastructure was 'developing rapidly' and was 'tightly regulated and as safe as refuelling diesel'. Refuelling takes around 30 min, which is a significant advantage over purely battery powered plant.
Linsinger said the technology is scalable to all the milling machine types in its portfolio, and it expects to launch a larger version by 2024 which would be powered by two fuel cell powerpacks. Customers would also be offered the option to order bi- or tri-mode machines in a combination of hydrogen, battery, overhead electric and diesel power sources.
The company also has a 30% stake in tamping machine manufacturer System7, and that business was also looking at hydrogen power for on-track plant, Holleis reported.
'We have to start delivering zero-emission machines now, as they will have a service life of 20 to 30 years, so diesel is already not a good option. We are so proud that we have actually built this machine, it's ready to go — we are no longer just talking about this technology', he emphasised.