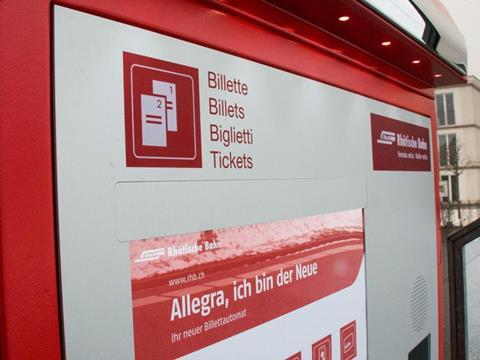 SWITZERLAND: Scheidt & Bachmann is supplying Rhätische Bahn with 97 replacement ticket vending machines offering similar functionality to those used by Swiss Federal Railways.
Passengers can select German, French, Italian and English language options. The TVMs can provide bank notes as well as coins in change for cash payments, and have a card reader with RFID function for contactless payment by bank card.
As well as selling a standard range of national tickets, the machines enable passengers to renew monthly and weekly tickets, purchase various offers and prepay for various telecoms and internet services.
SwissPass cards can be scanned using a built-in scanner, and a barcode reader can read all common barcodes and QR codes.
The roll-out of the machines began on March 19, and is scheduled for completion across the metre-gauge operator's network by mid-July.