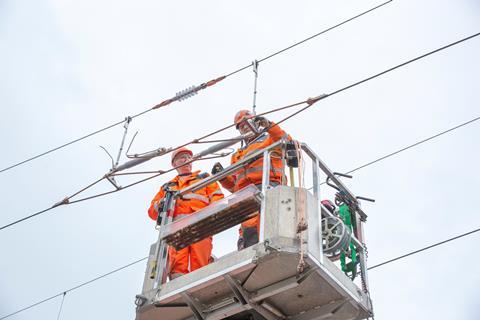 SWITZERLAND: The Federal Office for Transport has provisionally approved a new design of overhead line section insulator from catenary specialist Kummler + Matter. This follows extensive field testing at locations in Switzerland and Finland.
First presented at InnoTrans 2018, the KUSEC range includes a rail version suitable for 15 kV 16·7 Hz, 25 kV 50 Hz and 3 kV DC and a tram variant for 1·5 or 3 kV DC. The section insulators have been designed for a long service life with minimal need for inspection and maintenance.
The insulators are mounted above wire height, and do not need to be earthed. Pantographs are led past the insulator by skids made from an abrasion-resistant copper-magnesium contact wire; the contact surface is kept level to ensure a smooth passage. Patented connectors are used to join the pre-assembled units to the contact wires, with provision to adjust the height and alignment.
Having been successfully tested against the EN 50119 and 50124 standards, KUSEC insulators were installed for field trials at various locations across the Swiss network, including Effingen on SBB's Zürich – Basel main line and Mägenwil on the Zürich – Bern corridor, as well as on tracks in the Helsinki suburban area. An 11 month trial at Lenzburg revealed minimal evidence of wear and tear on the skids following the passage of 75 000 pantographs.