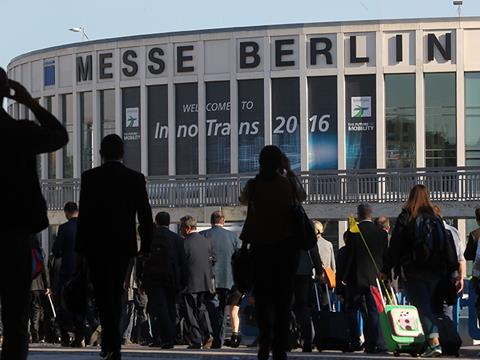 INNOTRANS: Organiser Messe Berlin reports that the 11th InnoTrans trade show held in the German capital on September 20-23 had enjoyed 'the best set of results in its history', with record attendances by exhibitors and trade visitors, 149 products making their international debuts and 127 vehicles on display.


A total of 2 955 exhibitors from 60 countries presented their products and services, with the overwhelming majority of these focused on conventional steel-wheel railway technology. The exhibition attracted no fewer than 145 000 trade visitors to Berlin. In addition, more than 20 countries sent specific trade delegations to visit the show, including Taiwan, Morocco, the United Arab Emirates and India.

'InnoTrans has emphatically demonstrated its function as the pre-eminent innovative force and the world's leading market place for the rail transport sector', explained Messe Berlin CEO Dr Christian Göke. 'Compared with the leading trade shows in other sectors, InnoTrans provides a unique level of market coverage.'

The Railway Gazette Group is the official international media partner for InnoTrans 2016. Please visit our dedicated InnoTrans News portal for comprehensive coverage of this year's show.