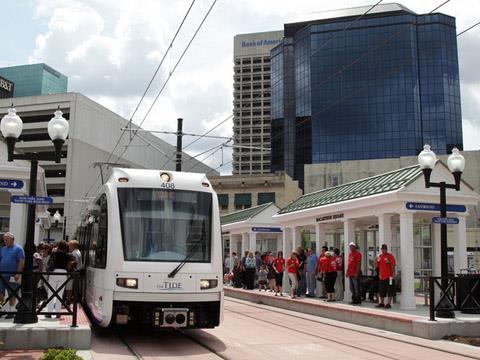 USA: The Tide light rail line in Norfolk, Virginia, opened on August 19. More than 46 000 people took advantage of free rides during the first two days, far more than anticipated, and so the planned three days of free travel was extended until August 28.
The 11·8 km line runs from Eastern Virginia Medical Center through central Norfolk to Newtown Road, with 11 stations serving locations including cultural, financial and entertainment facilities. Siemens has supplied nine S70 light rail vehicles for The Tide, which is predicted to have an initial weekday ridership of 2 900, rising to 7 200 by 2031.
'The start of light rail service in Norfolk is a game changer', said Philip A Shucet, President & CEO of operator Hampton Roads Transit. 'It marks the return of regular train service to downtown Norfolk and offers commuters the first new transportation choice in a generation.'
The first plans for what became The Tide were developed from the mid-1980s. Construction began in 2007, and after 18 months of delays and a $106m budget overrun, the final cost of the project is put at $318·5m. Mayor Paul Fraim told The Virginian-Pilot that, at less than $27m/km, 'if it is not the lowest on a per-mile basis of any light rail, it is at the very bottom of the list'.