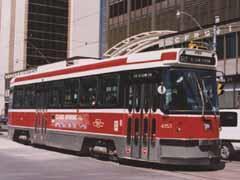 CANADA: Newly-elected Mayor of Toronto Rob Ford came into office on December 1 and declared that the ambitious C$8·15bn Transit City light rail expansion scheme was 'over' and that he would immediately begin pursuing his campaign promise to expand the metro network.

Insisting that 'the war on the car stops today', Ford said 'we will not build any more rail tracks down the middle of our streets.'

The mayor instructed Toronto Transit Commission Chief General Manager Gary Webster to stop work on Transit City. Within a few days most TTC employees working on the project were reassigned to the metro plan, which includes conversion of the Scarborough Rapid Transit line to metro instead of LRT, and extending it and the Sheppard metro line.

The Transit City programme called for completion of five light rail projects in 10 years. One of the new routes along Sheppard Avenue is already underway and is due to open in four years; TTC had also received Notice to Proceed for the Eglinton Crosstown and Finch West LRT routes. A C$54m contract has been awarded to Lovat Inc for four tunnel boring machines for the Eglinton project and a C$770m option for 182 Bombardier light rail vehicles was exercised on June 14 by Metrolinx.

Provincial leaders have hinted that the light rail funding might not be transferable to metro lines. Noting that work had already started on some elements of Transit City, Ontario Transportation Minister Kathleen Wynne warned Ford that she '…would be very concerned if there's money wasted and time wasted, and I think a decision to scrap the whole plan now would risk that kind of waste.'

Around C$130m has already been spent, most of which would presumably not be applicable if the metro plan goes ahead. Metros also require years of planning, engineering and environmental work, making it unlikely that construction would begin during Ford's four-year term, even if the necessary financial approvals were achieved. The upshot could be that nothing gets built.