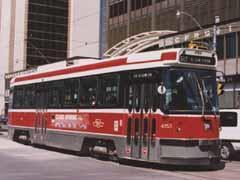 CANADA: Toronto Transit Commission has approved plans for approximately 122 km of new light rail route costing C$6bn that, along with the current tram network, would cover much of the city.
The seven proposed lines would be completed within 15 years and, in the words of TTC Chairman Adam Giambrone, would convert Toronto into a 'transit city', carrying an estimated 70 million passengers a year.
The vision calls for building the lines in reserved rights-of-way on major thoroughfares. The seven proposed routes would cover:
Don Mills Road, from Steeles to the Bloor-Danforth subway, 17·6 km
Eglinton Avenue, from Kennedy station to Pearson Airport, possibly with an underground segment from Laird Drive to Keele Street, 30·8 km
Finch Avenue West, from Highway 27 in Etobicoke to Finch Station, 17·9 km
Jane Street, from Jane station to Steeles, 16·5 km
Scarborough to Malvern, starting at Kennedy station and running northeast on Kingston Road and north on Morningside Drive, 15 km
Sheppard Avenue East, from Don Mills station to Morningside Drive, 13·6 km
A Waterfront West line from Union Station to Long Branch, 11 km.
The system would require 240 new light rail vehicles in addition to replacements for TTC's current aging fleet.
Funding will be a determining factor, however, and no commitments have yet been made. Indeed, doubts have already been raised as to whether the Toronto municipal authority could afford its C$400m/year share even if the provincial and federal governments managed to contribute up to two-thirds of the cost.