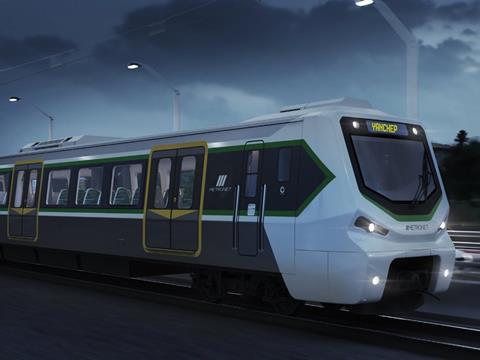 AUSTRALIA: Public Transport Authority of Western Australia announced on August 19 that it had selected Alstom Transport Australia as preferred bidder to supply the next generation of electric multiple-units to operate on the Transperth network serving the state capital.
Details of the A$1·6bn contract are expected to be finalised by late 2019. The Momentum West consortium of CAF and UGL, as well as a joint venture of EDI Rail and Bombardier, had also been shortlisted.
Alstom is to supply 41 six-car C-series EMUs to operate on current and future routes of the 1 067 mm gauge suburban network electrified at 25 kV 50 Hz. The EMUs would have an operational life of 35 years, with the manufacturer responsible for 30 years of maintenance.
Deliveries of the 17 sets that are required for network expansions being developed as part of the Metronet programme are due to begin in 2021. Planned projects include the Forrestfield-Airport Link, the Morley-Ellenbrook Line, the Yanchep extension of the Joondalup Line, the Byford extension of the Armadale Line and the Bellevue extension of the Midland Line.
The other 24 trainsets, expected to enter service between 2023 and 2028, are intended to replace the ageing A-series EMUs that have been in operation on the Transperth network since the 1990s.
The 150 m long EMUs would have more and wider doors than existing stock, and capacity for 1 200 passengers. The 130 km/h trainsets will be equipped with USB charging points, LED lighting and regenerative braking.
Alstom's contract also includes the supply of six DMU cars to replace the five cars that currently operate the twice-daily Australind service between Perth and Bunbury. The new cars are due to be delivered in 2022 or 2023.
The contract specifies that the rolling stock should contain 50% content from Western Australia and be assembled locally. Bellevue, to the northeast of Perth, is the state government's preferred location for the assembly plant and commissioning centre.
PTA has announced that upgrades to North Dandalup and Cookernup stations worth A$1·3m are to begin next month for completion in early 2020.