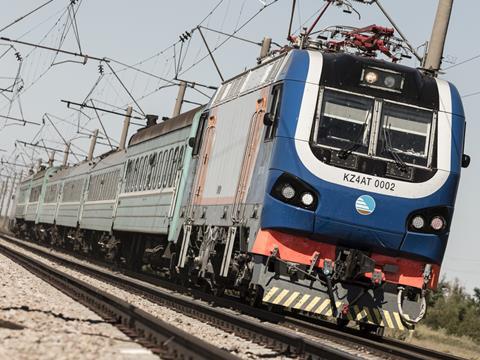 KAZAKHSTAN: The first of 95 Type KZ4AT electric passenger locomotives has entered revenue service on the Astana – Kokshetau route, Alstom announced on April 2. Two more are now on test and are expected to be handed over this year.
The KZ4AT was developed by Alstom and Transmashholding and is being supplied to Kazakh national railway KTZ by the EKZ joint venture between the two manufacturers and the operator.
The 25 kV 50 Hz KZ4AT is designed for the Kazakh and wider CIS markets, with a maximum speed of 200 km/h and the ability to operate in temperatures ranging from -50°C to +45°C.
The design has a greater degree of Alstom input than the locomotives which are being built for Russian Railways by the Alstom/TMH joint venture at Novocherkassk. The traction system is based on Alstom technology and components, and is jointly produced by Alstom and Transmashholding. The modular design is expected to minimise maintenance, leading to a low life-cycle cost and high levels of reliability.
EKZ is to supply KTZ with 200 KZ8A twin-section freight and 95 KZ4AT single-section passenger electric locomotives by 2020 under an October 27 2010 framework contract worth €1·3bn. The initial 10 freight locomotives were supplied from Alstom's Belfort plant in France, with the first rolled out in October 2012, and 15 more were supplied in kit form. The first of the passenger locomotives was also supplied from Belfort.
The joint venture partners launched construction of the EKZ factory in Astana in June 2010, and it was officially inaugurated on December 4 2012. So far 25 freight locomotives have been certified and handed over.
In October 2014, Alstom and KTZ reached an agreement for Alstom to increase its share in EKZ from 25% to 50% and expand its activities to include maintenance.