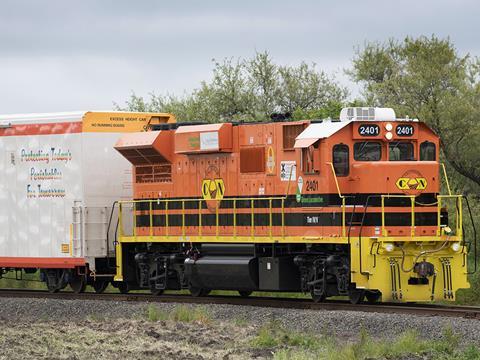 USA: Two Knoxville Locomotive Works low-emission diesel locos have entered service on Genesee & Wyoming's California Northern Railroad following the completion of trials.
The 1·79 MW locomotives have 12-cylinder MTU engines and use selective catalytic reduction technology to meet Tier 4 emissions requirements. They are expected to provide fuel savings of 25% and reduce CO2 and NOx emissions by 80% compared to the two 1970s locomotives they replace.
The railway's purchase of the locos was supported by a $3·7m grant from the Bay Area Air Quality Management District, which provides incentives for the deployment of cleaner equipment for freight movements in the nine-county San Francisco Bay Area.
'Short line railroads such as the California Northern, which provide the first and last mile freight service linking local customers to the large national railroads, are small businesses with duty cycles that don't require brand new locomotives', said CFNR President Brad Ovitt. 'We're grateful to the Air District for making the purchase of these two low-emission, state-of-the-art locomotives feasible, as they provide benefits to the communities served by the railroad that would not be possible for us to do on a stand-alone basis.'
Air District CEO Jack Broadbent said the Bay Area was 'on a course to be diesel-free by 2033' and the cleaner locomotives would 'help the region reduce diesel while newer diesel technology is being developed.'
CFNR operates three separate lines in the Bay Area and San Joaquin Valley totalling around 400 route-km. It carries 25 000 wagonloads per year, with traffic including agricultural products, animal feed, beer, wine, chemicals, cheese, construction products, lumber and steel.