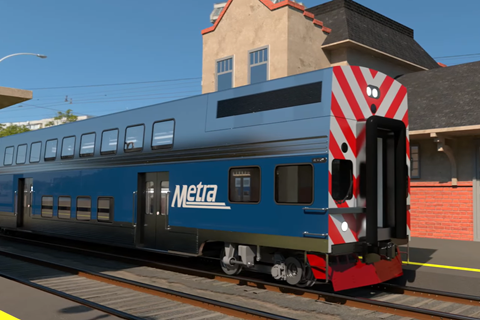 USA: The Metra board has approved the award of a 'transformational' $1·8bn framework agreement for Alstom to supply up to 500 double-deck coaches, which the Chicago commuter operator said would be 'more comfortable, accessible, reliable and safe than the outdated gallery cars they will replace.'
A firm order for an initial 200 vehicles is expected to be finalised by mid-February. The first car would be delivered after 42 months, with the base order completed 30 months later.
A customised version of Alstom's Coradia Duplex family, the coaches will be built at the Hornell plant in New York state with a third of the contract value provided by Illinois-based suppliers.
The stainless steel coaches would have two entrances per side, with the doors nearly level with the platforms so that boarding involves one step rather than multiple steps on the old gallery cars. This is expected to improve passenger flow and increase safety. There will be lifts for wheelchair users, as well as accessible toilets. Reliability and safety features will include a microprocessor-controlled braking system, electrically operated doors and CCTV.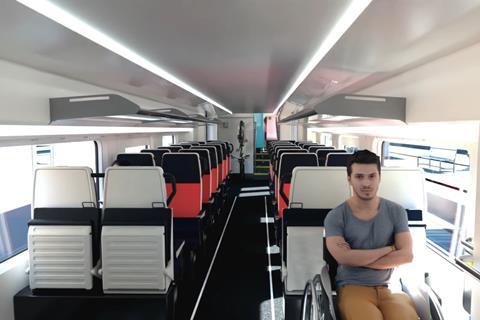 Based on passenger feedback, the interiors are expected to feature video screens, storage for bags, cycle racks, charging outlets, cupholders and arm rests. 'The most advanced HVAC system available' would clean the circulated air.
As with the gallery cars, the new coaches are intended to operate in locomotive-hauled push-pull trains; they will be able to operate with Metra's existing fleet.
Fleet replacement has been part of Metra's plan since 2014, and the order would be its first in more than 20 years. The operator said 40% of its current fleet of 840 vehicles were in a marginal or poor condition and increasingly expensive to maintain, and the new vehicles would offer increased reliability and a 'substantial' improvement operating costs.
'This move is truly transformational', said Metra CEO Jim Derwinski on January 13. 'We are finally modernising one of the oldest fleets in the country and, in doing so, we will improve operations while elevating our passenger experience to an entirely new level. It's really part of our long-term plan to evolve and serve the changing needs of today's commuters.'
Chief Operating Officer Bruce Marcheschi added that 'most people don't realise that we are constantly making upgrades to tracks, bridges and our car servicing. But this is something that our passengers will immediately see, feel and smell. This is a real game-changer'.