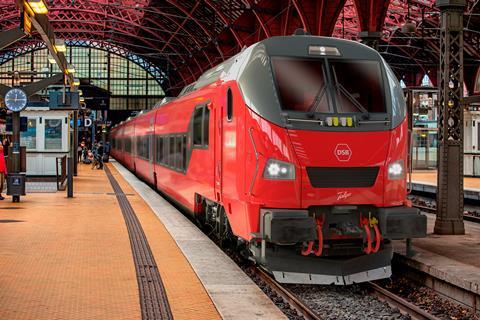 DENMARK: National passenger operator DSB has increased its order for Talgo 230 inter-city trainsets from eight to 16 trainsets. It has also ordered 16 driving trailer coaches which will enable push-pull operation with Siemens Mobility Vectron locomotives.
DSB said push-pull operation would be cheaper and more energy efficient than its previous plan for top-and-tail operation with a locomotive on each end of a train.
In February 2020 DSB and Talgo announced a framework agreement including a firm order for initial eight trainsets, to be based on trains previously ordered by Germany's Deutsche Bahn.
The first of the DSB sets are now expected to enter service on the routes from København to Aarhus and Hamburg in summer 2024.
The initial trains were ordered with 442 seats, but DSB later announced that they would be lengthened to offer 492 seats.
The €184m for a further eight trainsets plus spare parts was announced on April 18, and is subject to the confirmation of government funding.
The second tranche of trains will have 493 seats. The first of the driving cars are expected to enter service at the end of 2026, initially operating as ordinary coaches ahead of push-pull operation from 2028.
DSB said there will be further discussions about how the fleet will be maintained.