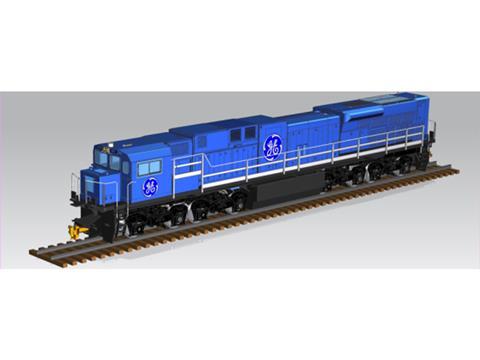 BRAZIL: GE Transportation has announced the development of the Evolution ES43BBi design, an eight-axle diesel freight locomotive aimed at the 1 000 mm gauge railways which with a total length of 23 000 km form 80% of the national network.
Featuring GE's new AC traction motor for 1 000 mm gauge, the Bo-Bo-Bo-Bo ES43BBi would feature individual axle control, improving adhesion and offering double the tractive effort of existing DC-motored designs dating from the 1970s and 1980s. According to GE, this would enable two locomotives to haul freight trains currently requiring between three and five six-axle locos.
GE Transportation Technology Director Marc Flammia said that the ES43BBi would meet 'a major demand in the national market', enabling 1 000 mm gauge operators to move 'more freight at a lower cost'. As well as the lower maintenance requirements of AC traction motors, the new design would offer the potential to reduce emissions by up to 80%, he said.
A prototype unit is now under construction at the GE works at Contagem in the state of Minas Gerais. GE points out that with over 60% local content, the ES43BBi would be eligible for funding from national development bank BNDES.