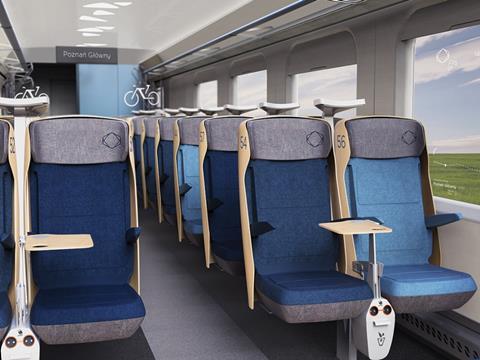 POLAND: Long-distance operator PKP Intercity has signed a contract with Poznań-based FPS H Cegielski for the design and manufacture of up to 81 TSI-compliant coaches for operation at 200 km/h.
FPS had been announced at the end of last year as sole bidder for the tender issued in June 2017; at that time the base order for 55 coaches was valued for 474m złoty, with options for 26 more worth 224m złoty. Announcing the contract signing on March 7, FPS put the total contract value at 564m złoty.
FPS will develop five variants within the base order, supplying five first-class compartment coaches and 36 second-class vehicles with both compartment and open saloon configurations. There will be seven second-class vehicles with wheelchair spaces and an accessible toilet, and seven vehicles with a bicycle space. All vehicles will have air-conditioning and onboard wi-fi, while the new interior design will include ergonomic seats.
The vehicles will be equipped with Type 25AN bogies manufactured by FPS, which the company said have already been proven in revenue service with more than 40 million km of operation.
Delivery of all vehicles including the option must be completed within 48 months. A further four years has been allowed for the supplier to obtain the necessary certification for the vehicles to operate into the Czech Republic, Germany, Austria, Slovakia and Hungary.