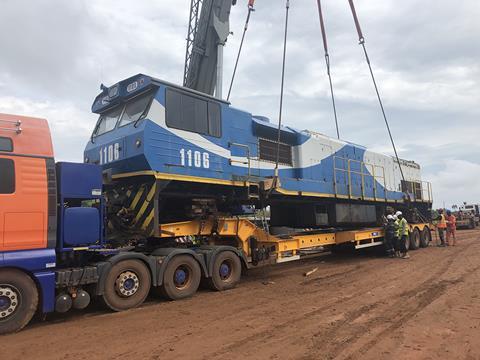 AFRICA: Diesel locomotives which South African freight and financial services company Grindrod Ltd supplied for use at a mine in Sierra Leone which has now ceased operating have been recovered for use elsewhere.
Grindrod delivered a total of 34 S30SCC locomotives to haul iron ore from African Minerals Ltd's Tonkolili mine to the port of Pepel under a contract awarded in 2012. However, mining ceased in 2017 after a fall in ore prices and the user defaulted on the lease payments.
Getting the locos back to South Africa was a complex task, Grindrod said, as the port at Pepel was not deep enough to receive the large vessel required, and there is no rail link from Pepel to the deeper port of Freetown.
The 24 locomotives were sent 75 km by rail to a transshipment facility near Lunsar, where they were lifted off their bogies using a mobile crane hired from neighbouring Guinea. The 72 tonne locomotives were then loaded on to specialised lorries for transport to Freetown over metalled and dirt roads, using an indirect 200 km route to avoid weak bridges and other obstacles. At Freetown the locomotives were reassembled and loaded onto a heavy-lift ship for transport to South Africa.
Four of the locos were unloaded at Matadi for use by a Grindrod customer in DR Congo, and the remaining 20 arrived in Durban on July 14.
A further 10 locomotives have remained in Sierra Leone at the request of the country's government which is making efforts to revive iron ore exports. Depending on the outcome, these would either be used under new long-term contracts or shipped back to South Africa at the end of the year.
Grindrod said it was 'enjoying competing demands' for the locomotives from operators. It anticipates that all of them will be delivered to clients by the middle of 2020.
'What seemed an impossible task when first contemplated has been achieved by our team, from our landing at Lungi airport in Freetown on March 26, to securing the Sierra Leonean government's support, contracting the logistical expertise and assets from around West Africa and safely executing a complex landside operation to delivery by sea to Durban only four months later is really remarkable', said Grindrod Rail CEO Andrew Thomas.