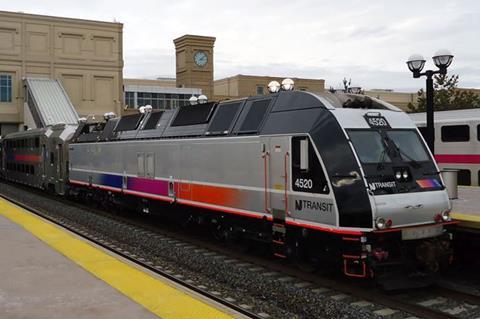 USA: A $70·5m order for a further eight Bombardier Transportation ALP45-DP electro-diesel locomotives was approved by the New Jersey Transit board on July 15.
They are scheduled to be delivered from 2022, taking the commuter operator's ALP45-DP fleet to 60 locos. They can operate at 200 km/h under electric power and 160 km/h in diesel mode.
NJ Transit ordered an initial 26 locomotives in 2008 in a deal which included options to take the total to 63. A firm order for nine was placed in 2009, and a further 17 were ordered in 2017. The previous batches were produced at Bombardier's Kassel plant in Germany, and are derived from the established Traxx design, albeit using a heavily modified bodyshell and a single cab to account for the bi-mode capability.
The latest order will able NJ Transit's Alstom/EMD PL-42AC diesel locomotives to be withdrawn, as these cannot be upgraded from EPA Tier 1 to Tier 4 emissions standards.
'This important purchase aligns squarely with our recently released 10-year strategic plan and five-year capital plan', said NJ Transit President & CEO Kevin Corbett. 'Improving service reliability and the customer experience are among the chief goals in both plans. These new locomotives are far more environmentally-friendly and will provide additional flexibility to operate on both electrified and non-electrified tracks. Additionally, these locomotives will reduce the average age of our fleet, which ultimately results in improved reliability and on-time performance, and reduces service interruptions for customers.'